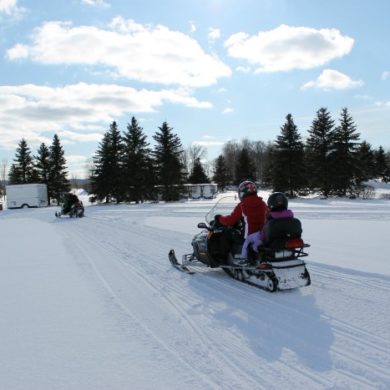 Winter in Traverse City MI
Wintertime activities in Traverse City are as plentiful and varied as snowflakes.
When it gets cold, we like to snowshoe, snowmobile, take in a hockey game or warm up with a wine or beer tasting.
Here, we highlight some of the main events that come to town in the snowy season:
Iceman Commeth
Each November since 1990, Traverse City has welcomed cyclists for a mountain bike adventure race. Swig a beer from event sponsor Bell's Brewery.
Traverse City Beer Week
It's so cold, you might need to warm up with a brew. Seven days of tastings and dinners highlight the craft beer scene in Traverse City.
Downtown Tree Lighting
At the beginning of December, Downtown Traverse City lights up to welcome Santa Claus. Check out the local shops with a backdrop of winter scenery set to holiday music.
Ladies Night
Ladies, prepare your pocketbooks. Tonight, Downtown shops want you to play the role of Santa, with drinks and specials to get you in the shopping spirit.
Men's Night
Who says the ladies have to do all the holiday shopping? Downtown shops offer specials, free drinks and food so men can tackle their lists.
New Year's Eve Cherry Ball Drop
Join thousands of spectators at the corner of Downtown's Front and Park Streets to watch a glowing cherry descend, marking the start of a brand new year!
Traverse City Restaurant Week
February is for foodies! Local restaurants offer three-course meals for only $25 all week, in celebration of Traverse City's rich culinary scene.
Winter Microbrew & Music Festival
Traverse City is home to two annual installments of this festival, one in the summer and one in winter. Bands and beers? What more could you ask for?
Hockey, Hockey and More Hockey
If hockey is your sport, stick around. Our city hosts several tournaments throughout the snowy season.
For your planning pleasure, here's a Traverse City winter event calendar.
Have 'snow much' fun!