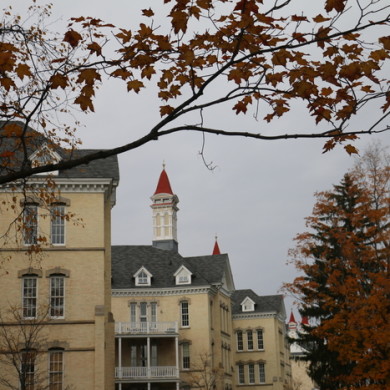 It used to be an asylum.
Just keep that in mind when you visit The Village at Grand Traverse Commons, now one of the largest historic preservation and adaptive reuse developments in the country – a retail and residential haven housed in Victorian-Italianate buildings dating back to the 1800s.
The restoration project continues. The campus is huge, a cool thriving neighborhood of dining, shopping, wine-tasting, coffee-sipping, gallery-going, loft-living, office-spacing, yoga-practicing joy.
The grounds cover more than 400 acres, including a historic arboretum of gorgeous trees that show their best face in the fall.
Long ago, the space was one of three state asylums in Michigan, operating under the philosophy that 'beauty is therapy,' which is not a bad philosophy for even the soundest of mind and body.
One mile from downtown, the expansive parks and water views provided peace for people in need. Rather than locking them away or medicating them, the asylum's creators envisioned enveloping patients in a beautiful, soothing environment.
Today, the Village is bustling with activity. In the Mercato indoor marketplace, dining runs the gamut from gourmet to grab-and-go, and shops have a local, boutique feel. There's a lot of authentic, hometown charm here, from the jewelry to the art, clothing, antiques, T-shirts, glass works and more.
Whether the weather is gloomy or glorious, you can find something to do indoors or out. When the sun is shining, pack a picnic and stroll the groomed trails along the Kid's Creek. If it's raining, spend the day at the market.
The Village at Grand Traverse Commons hosts annual events, but you can also book your own special event here. Take a historic tour, or spend Christmas in the Village. For a full list of events, check the Event Calendar before your stay.
You'll enjoy the Village for all the beautiful splendor of its origins. For more information, visit the Village at Grand Traverse Commons website or call (231) 941-1900.
– Ashley Kahn Salley
Lead Storyteller,