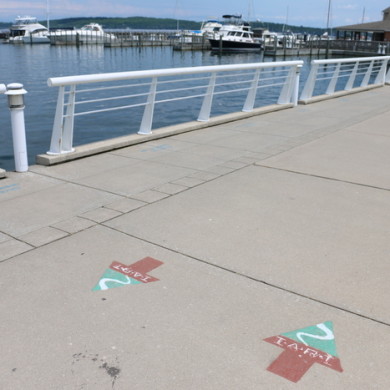 Trails Traverse City MI
If you want to get out and get moving, here are our picks for the best routes for walkers, bikers, hikers, joggers and runners in Traverse City, all with beautiful views of the water or the city.
The Vasa Pathway is part of the TART Trail system and by far the most popular, located on state forest land with loops ranging from easy to difficult. The trailhead is located at 4450 Bartlett Road. Take US31 to Bunker Hill, turn right on Bartlett, then left into the trailhead parking area. The trail is marked with wayfinding signs.
For a Fun 5K, start on the TART heading west, take the fork right and run under the bridge along the river for a minute, then up the stairs to make a right onto Front Street. Follow the main drag through beautiful downtown Traverse City before turning right onto Division street. Next, run to the bay and turn right on Grandview, then follow the TART back to the hotel. (This is the best of both worlds, with beautiful views of both the lake and downtown.)
To run a Waterfront Four-Miler, start on the TART heading west. When the sidewalk forks, take the left fork. When you get to the marina, follow the waterfront sidewalk until it ends at Traverse Highway. Now, turn and run the same way back. This four-miler follows the bay from start to finish … it's so pretty that you'll forget you're running.
Be sure to check out all of the TART Trails or explore beyond to find your own favorite. Don't forget to tell us about it!