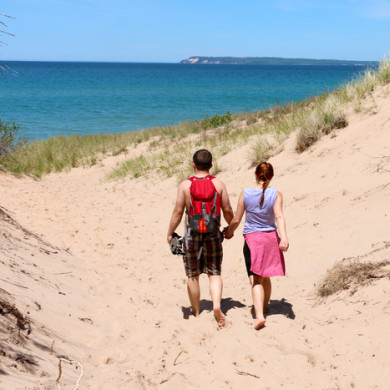 You could spend weeks exploring Sleeping Bear Dunes National Lakeshore, but if you only have a day, a great place to start is with a dune climb, followed by the Pierce Stocking Scenic Drive.
For just $20 per carload, you'll earn access to all parts of the park for one week. (Trust us, you may want to come back.)
To start your dune climb, head to the National Lakeshore and park in the large public lot. As soon as you pull up, you'll notice people climbing the giant, golden sand dune. Its base is a popular spot for picnicking families and a place for cyclists who've hit the Heritage Trail to congregate and rest.
You could sit here and people-watch, or you could get out of the car and join in. May we suggest the latter? For an exhilarating thrill, take off your shoes and climb the steep dune in your bare feet, wonder at the majestic lake views from the summit – then run down at top speed!
If you feel more adventurous, keep hiking when you get the top to explore the dune's natural ecosystem. The main trail will take you over lots of ups and downs to the other side of Lake Michigan. It's a darn good workout, and if you're brave, you can do the entire trip in bare feet. In the summer, however, when the sand gets hot, it's a good idea to carry a pair of shoes with you. You'll also want to pack water and sunscreen if you decide to do the whole hike. (Guided snowshoe hikes with a park ranger are popular in winter months.)
In this rare ecosystem, the scenery is beautiful and unique because surviving in the dune is no easy task. Flora and fauna deal with strong sunlight, poor soil and near constant winds. The gusts alone can dry out plants, exposing root systems or completely burying trees, making for a stark yet fascinating landscape.
The trail ends at a small beach on the shores of Lake Michigan, where the water is crystal clear blue – and quite cold, even in June. Here, swimming is far from comfortable until late summer. But it's the perfect place to have a picnic and skip rocks, or build tumbling towers with them.
For the full hike, you need to allot 2 to 3 hours.
After your dune climb, you'll need to rest your legs, because hiking in the sand will take its toll on your calf muscles. The Pierce Stocking Scenic Drive is a continuous loop that takes about 30 minutes to complete. Think of it as a 'scenic road to nowhere,' akin to a ride at a theme park, if only you could fasten your car to the track.
As you first enter the drive, have your cameras ready. Mr. Stocking built a gorgeous covered bridge for visitors to pause and photograph. This won't be the end of your snapshots – the road is lush and green, and spectacular in the fall when the leaves change to reds and golds.
From the open sunny dunes to the lush shade of the woods is a startling contrast. Sugar maples and American beech dominate the landscape, with a variety of shrubs and flowers that make this drive seem electric with so many shades of green.
Watch for a scenic stop to get out and stand atop a platform overlooking Lake Michigan. On days with excellent visibility, you can see South Manitou Island 10 miles to the northeast, and the Empire Bluffs 4 miles south.
If you're the super energetic type (or a glutton for punishment) – or you just really, really fall in love with the dunes, grab some more water, slather on the sunscreen and do the 1.5-mile loop of the Cottonwood trail for more strenuous sand walking.
After all this, you'll be hungry, so head to one of the quintessentially quaint Michigan villages nearby.
To learn more, please visit the Sleeping Bear Dunes National Lakeshore website. For information and maps, or to make a reservation for a guided hike, call the Visitor Center at (231) 326-4700, ext. 328.