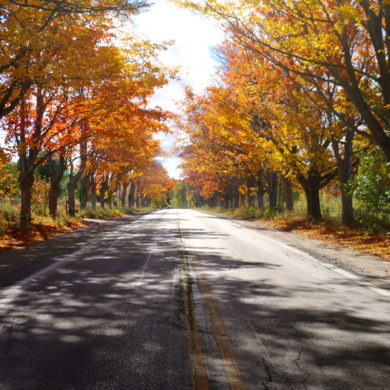 Scenic Drives Traverse City MI
There was this one time in autumn when we spent 7 hours on a scenic drive down the M-22. You may wonder how we could spend such a long time in the car looking at leaves and lakes.
Well, it's just that beautiful.
(Also, it had just been voted America's No. 1 Best Scenic Autumn Drive by 10Best and USA Today, so we felt compelled to hop in the car and see what all the fuss was about.)
The M-22, or Michigan State Highway 22, is 116 miles from top to bottom. We did the northern loop, starting in Traverse City and heading north to North Point before beginning our journey south.
Almost every 15 miles, you can stop in quaint little towns, like Glen Arbor or Fishtown. Most of the time, you're cruising right along the shoreline, so to call it picturesque wouldn't do this drive justice. It's something you need to experience when you visit us in the fall.
We stopped at countless lakes, bays and other bodies of water including: the West Arm of Grand Traverse Bay, Sutton's Bay, Lake Leelanau, Little Traverse Lake and Sleeping Bear Dunes National Seashore.
Once we hit Glen Arbor – our new favorite spot, by the way – we took the (even more) scenic 109 around to where it meets back up with 22. We continued South until we hit 72, then made our way east heading back to Traverse City.
Plan to pack a picnic lunch or 'grab and go' because there are tons of spots to stop and eat at picnic tables overlooking the water.
The trees are plentiful, with maple, oak, birch, weeping willow and fir – so many colors and shapes. Every bend we rounded brought out a collective 'oohhh' and 'ahhhh' as the gorgeous scenery rolled by.
Along the way, you can choose your own adventure based on your passions and interests.
If you love to hike, there are some amazing trails, like this dune climb we tried in the spring. Even in the autumn chill, diehards were still out exploring.
If photography is your hobby or profession, we passed several photographers stopped on the side of the road, snapping away. Some seemed to be experts, wielding serious camera equipment. It's no wonder … this was a postcard-worthy kind of day.
There are bird watching trails, and a large bike lane for cyclists, who would love the well-paved, winding road.
Everything we saw was local and authentic. You won't find any big box retailers or chains. Distilleries and wineries dot the highway for a taste of true Michigan.
You will be amazed at how clear and blue the water is, especially in contrast to the bright skies and bold pops of fiery fall foliage.
Don't pass up the opportunity to drive the magnificent M-22.
For more information or to find your route, visit the official M-22 website or Fall Color Tour website.