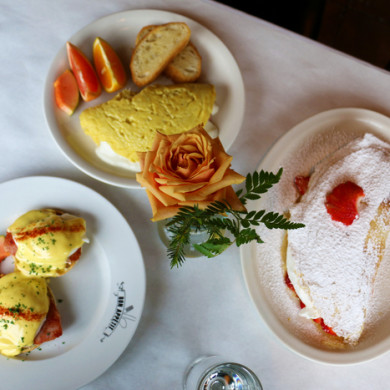 From the moment you set foot into Patisserie Amie on Lake Avenue, you'll feel as if you've jetted off to Paris for the day.
This little place, reminiscent of a tiny French bistro, got its start as an eight-seat pastry shop – then moved into a new, 55-seat restaurant, says server Angelique Urban.
Today, it's located in a midtown residential neighborhood, just a quick stroll from Front Street. It's a nice walk from the hotel along the water through downtown if you need to work off your meal. (We sure did.)
Consistently voted the best spot in town for brunch, we recommend a leisurely mid-morning meal, where you'll feel compelled to savor every delicious bite. During the summer season, there's always an hour-long line.
Since 2005, Chef Eric Fritch has been serving up a premier Traverse City dining experience. Although he is American born, he lived in the Alsace-Lorraine region of Germany and attended French pastry school.
Breakfast and lunch, the meals for which they have gained such a strong reputation, are served seven days a week. The same menu is served all day from 8 a.m. to 2 p.m.
On Friday and Saturday nights, they now serve dinner. Reservations are taken only for dinner seatings.
Urban tells us the patisserie (French for 'bakery') is known for its array of classic, authentic French pastries – which are available all day on the weekends – along with coffee service between the lunch and dinner menus. There are even gluten-free pastry options, for those who might think they can't partake.
Try the house-made Slipper Bread, a Ciabatta-style French loaf rubbed with sea salt that takes two days to bake – and is sold at the local farmer's market on Saturday mornings.
It's a truly European experience – meaning, service is slower, and this is a good thing. There's no need to feel rushed, giving you time to enjoy not only the food, but also your company. This is NOT a place for a quick, in-and-out bite. It is meant to be savored, because it might just be the best breakfast you've ever had. You will think about it long after you depart.
"One of the most popular dishes is the Peasant Omelet with ham, raclette and potatoes," Urban says. "Raclette is a semi-firm cow's milk cheese that is usually fashioned into a wheel and is most commonly used for melting."
Feeling adventurous? Try the truffled omelet with mousse de fois gras and raclette. This is fancy stuff for only $10.95. Yet all the omelets are the best in town, and the menu's "Les Oeufs" (Eggs) section is extensive, with huge, fluffy creations, many topped with incredible sauces. Indeed, the restaurant is acclaimed for its house-made hollandaise, which is thicker and more flavorful that what you may have tasted in the past – unless, you too are a culinary artiste.
If you love dairy-rich foods, don't miss the French pancake – a huge, thin, Parisian-style flat cake that is folded over with an unbelievable amount of Chantilly cream (we're guessing at least six cups), fresh strawberries and house-made strawberry jam, sprinkled with powdered sugar. Or try the light and fluffy French beignets, called "Pets de Nonne."
For those who prefer savory to sweet, the sandwich section of the menu features French classics such as the Croque Monsieur, basically a fancy grilled ham and cheese with creamy Bechamel sauce. Salad offerings boast more classics, like the 'Nicoise' with Genova tuna and provence vegetables, or the 'Lyonnaise' with bacon, poached eggs and mesclun greens.
The menu is heavy on local ingredients, including cheeses from Michigan cows. There's also a full espresso menu, and brunch-time drinks like bellinis, mimosas and a Bloody Mary that will not disappoint.
As decadent as it sounds, it's surprisingly affordable, with nothing on the menu over $15. (And for that, you get the Oeufs Henri IV, a steak filet and eggs.)
Soft, French music plays in the background. It's a relaxing place to begin the day, so bring a newspaper and sink into the surroundings.
Patisserie Amie is located at 237 Lake Avenue in Traverse City, MI. Call (231) 922-9645 or visit the Patisserie Amie website for more information.
Bon appetit!