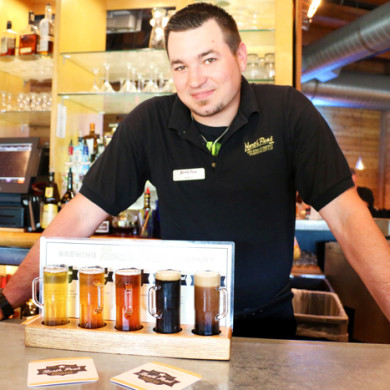 When we heard there was a brewery located in an old candy factory, we had to try it out. And we weren't disappointed.
Formerly the site of the Big Daylight Candy Factory, this beautiful historic building on the far west end of Front Street now houses North Peak Brewing Company. Constructed of 400,000 bricks and 250,000 feet of lumber in 1899, the remarkable place that used to make candy today serves up beer 'Brewed Up North' and an impressive menu.
It's about the food as much as it is about the beer. Think of it as an upscale brew pub with a really great menu. (Huge portions. Just huge.) North Peak is chef-driven, featuring wood-fired pizzas, fish and chips and steaks. Our bartender recommended the Rib Eye and the salmon, so naturally, we ordered both.
There is a brewery on site, so all beers on tap come from a few feet away, but they do sell bottles from other brewers. One of the most popular North Peak beers is the Diabolical IPA, a bright and golden brew with a creamy, hoppy bite.
"People who are new to craft beers need to develop a taste for hops, but once you do, you'll be hooked," our crafty bartender tells us.
The best way to try them is to order a flight – a delightfully presented sampling of all five signature North Peak beers, each with a descriptive card, so you know exactly what you're tasting.
In addition to the aforementioned Diabolical IPA, the flight features:
Northern Light – light bodied with subtle malt flavor and a golden straw color
Siren Amber Ale – malty, smooth and well balanced
Mission Point – full bodied Porter with rich chocolate overtones and pleasant hop aroma
Shirley's Irish Stout – deep and rich and dark (need we say more?)
You'll love the look of the place, with its rustic, exposed pipes and bricks. It's a wonderful place both to drink and to eat out, so if you are hitting a lot of breweries, make this the last stop on your pub crawl.
You'll feel like a kid in a candy store.
North Peak Brewing Company is located at 400 West Front Street in Traverse City, Michigan. For more information or to book a table, visit the North Peak Brewing Company website or call (231) 941-7325.