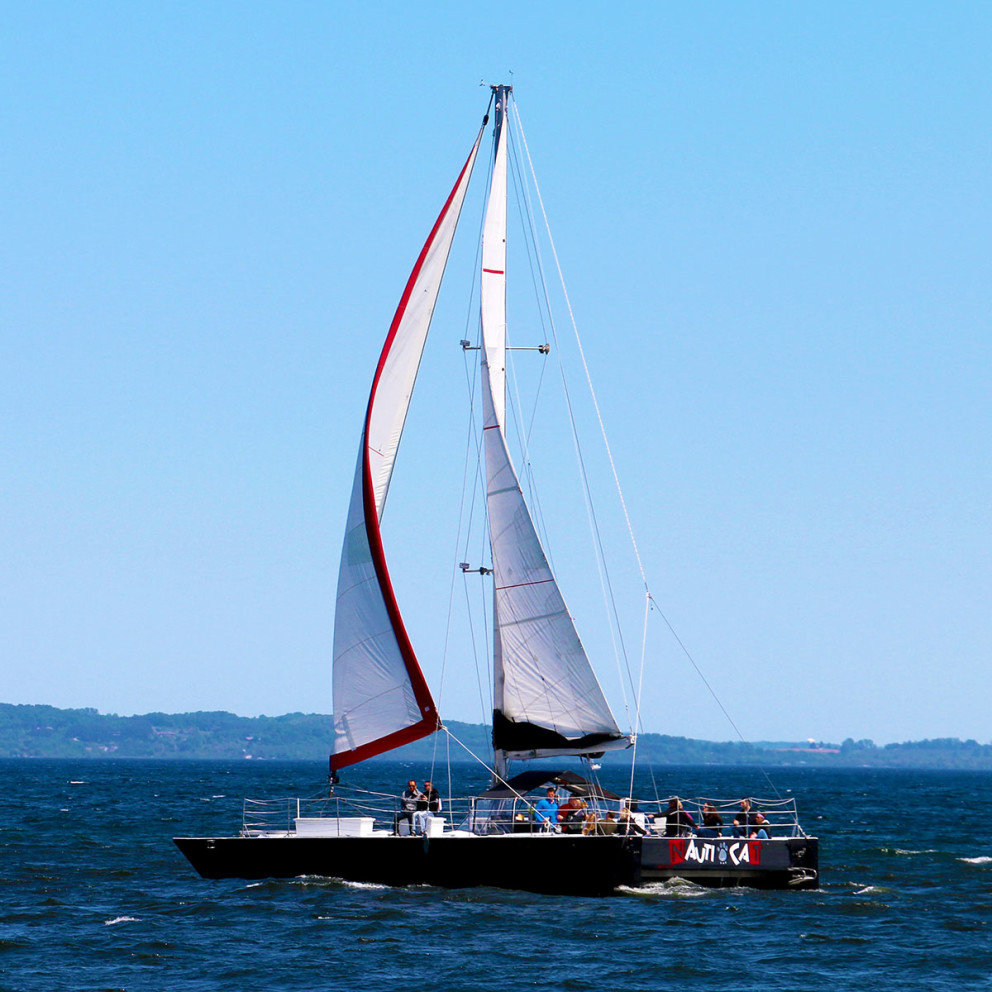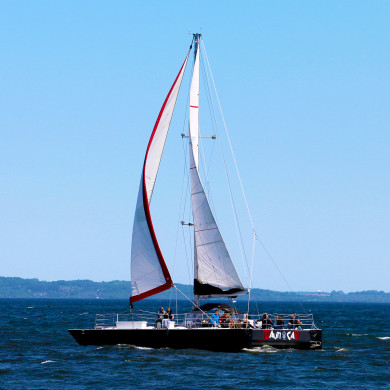 If you chose to stay with us, chances are you like the water and all it has to offer. You don't have to go far to enjoy the best of the West Bay of Lake Michigan, with boat rentals right here on property.
Chien Nowland is the owner and the captain of Nauti-Cat, operating out of West Bay since 1999. He takes parties out on the water up to four trips each day. Champagne Sunset cruises and the 10 p.m. to midnight sail are the most popular, but you'll enjoy the boat any time of day. (Like the 10 a.m. Kids Cruise, with bubbles, hula hoops and a safe introduction to sailing.)
The cruises run around two to two-and-a-half hours, and each day celebrates a different theme, so you can choose your cruise based on what you like. (And if you like it all, go more than once.)
Tuesday cruises are for the pizza and beer lovers among us ($45). On Wine Wednesday, enjoy local Chateau Chantal wine with artisan meat and cheese plates ($50). And Thursdays, your cruise will be set to live music, from the stage at the front of the boat.
Every cruise offers Michigan microbrews for $5, local wine for $6, top shelf liquor cocktails for $6, as well as a selection of local sodas.
A standard cruise runs $40 per person and may hold as many as 40 people. If you're looking for a more intimate experience, the Nauti-Cat may be rented for private cruises. It's very romantic, with netted hammocks to lie in and watch the lake waters move beneath you.
The Nauti-Cat is the largest commercial sailing catamaran on the Great Lakes, at 47 feet long and 29 feet wide. We're so happy she makes her home in our backyard.