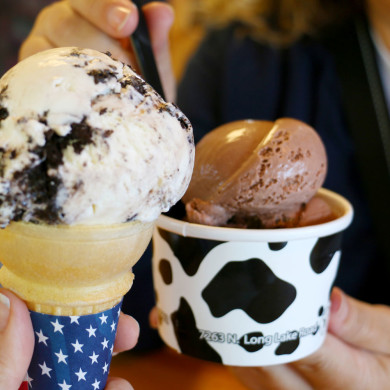 Just a 15-minute drive from the hotel is some of the best ice cream you will ever taste. In fact, maybe you should walk so you can eat more of it.
(Just kidding.)
Voted 'America's Best Scoop' by Good Morning America, the place is generally packed. We mean line-out-the-door-at-3 p.m.-in-October packed. Packed like homemade ice cream by the pint. You get the point.
And it's not just kids standing in this long line. It's mostly adults. Moomers is a crowd pleaser for the young and young at heart.
But never fear. If your poor heart can't bear the thought of standing in line, this ice cream is available all over Traverse City … including our own hotel gift shop!
However, if you want the true Moomers experience, head on in to sample the glory. They make around 160 flavors, with at least 20 available each day. (If your favorite isn't here on any given day, just ask about it. They'll be happy to make you some and call you when it's ready, or check the big freezer in the back.)
Moomers was born, quite naturally, on a dairy farm, where Nancy Plummer raised her four children. She wanted to provide a premium product, share the world of agriculture and employ young adults in a family-friendly atmosphere. Two of her children now work in daily operations of the retail and wholesale business.
Moomers serves scoops, homemade waffle cones, chocolate dipped cones, ice cream cakes, sundaes and floats. You can also take home ice cream by the quart, pint or half-gallon. Or try a glass of wholesome Moomers milk, from the Creamery that opened in 2011. (It's what ice cream dreams are made of.)
You can expect traditional favorites such as Chocolate Peanut Butter Chunk and Oreo Cookies & Cream. There are also regional flavors like Very Cherry, Cherries Moobilee and Apricot. Then, depending on the season, you may find tastes including Cinnamon Pumpkin Crisp or Caramel Apple.
In addition to satisfying the region's collective sweet tooth, Moomer's is very involved in the community. During our fall visit, there was a contest to guess the weight of the shop's giant pumpkin for a chance to win an ice cream party – as well as a Halloween event featuring a wagon ride around their beautiful 75-acre farm, where the Moomers ice cream magic happens.
The shop breaks from January to March, because it's too darn cold to eat ice cream … and they need time to dream up new flavors.
Moomers is located at 7263 North Long Lake Road in Traverse City, MI. For more information, visit the Moomers website or call (231) 941-4122.
– Ashley Kahn Salley
Lead Storyteller,