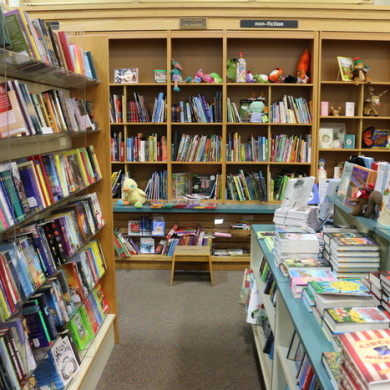 There are a lot of wonderful things to write home about in Traverse City. There are also a lot of wonderful things to read while you're here, and you'll find them at Horizon Books on Front Street.
Downtown Traverse City was voted one of the '50 Best Small Downtowns in America' in 2015, and for good reason. The traditional American mainstreet never died here. Front Street, where Horizon Books has made its home for more than 50 years, is a mix of the old and new, trendy and classic … the kind of place where an independent bookstore still survives. (Lucky for us. And you.)
The store was established in 1961 and is still family owned and operated. Located in a retrofitted JC Penney, it's packed with books, reading and writing materials of all kinds. It's the kind of place you could stay all day. With three floors of books, magazines, puzzles, greeting cards, two fireplaces, a café and coffee bar and free Wi-Fi … what more could you need, really?
This place is really a cultural hub of the community. And the smell – oh, that smell. You know the one. It's better than a Barnes & Noble. It's books and years and people and energy and LIFE.
"Being a community gathering spot has helped keep our store vibrant and busy year round," says one of the store's managers, Jill, who also works hard to bring in local authors and musicians as event coordinator.
Horizon hosts more than 900 events a year. From author signings to knitting groups, bridge clubs to music nights – if people like to do it, they do it. But of all the events the store hosts, Jill's favorite is probably the Story Hour for children, held at 10 a.m. on Friday mornings.
"It's a great time for parents to bring in their youngsters for stories, crafts and activities," she shares.
Nearly every Saturday, Horizon brings in authors for chats and signings. And ten months out of the year (excepting July and August), there's free live music on Friday nights from 8:30 to 10:30 p.m.
The enormous basement (or River Level, as it is officially called) has a great number of discounted or out-of-print books, and a selection of magazines so large you rarely see in stores these days – many in foreign languages. There are also newspapers from all the major U.S. cities, so you can catch up on what's going on at home.
As if that weren't enough excitement for one place, Horizon is home to a local television broadcast called 'Up Front Fridays,' featuring interesting guests discussing local Grand Traverse events. Tune in to find out what's going on in this cool town. Shows are streamed and archived on upnorthmedia.org.
"Working in downtown Traverse City is a lot of fun, because there is always something going on," Jill tells us. "Between parades, art fairs, the farmer's market and our busy store, there is never a dull moment."
Horizon Books is located at 243 E. Front Street in Traverse City, open seven days a week from 7 a.m. to 11 p.m. It's a great place to pick up a souvenir of your trip. For more information, visit the Horizon Books website or call (231) 946-7290.