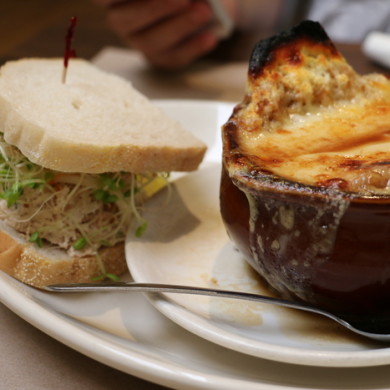 Green House Cafe Traverse City MI
Wally and Joy Green are lifelong Traverse City restaurateurs who had a dream of opening a successful café on Front Street – one with a convenient location, consistently good food and reasonable prices.
Out of that dream grew the Green House Café, serving up made-to-order breakfasts and specialty lunches since 2000. Located in Downtown Traverse City, the restaurant has received numerous local awards and has been featured in such publications as Midwest Living and the Record Eagle. It's also one of the top-rated Traverse City restaurants on TripAdvisor, with reviews heralding its 'great service' and 'outstanding, healthy food.'
When we dined in, our servers were friendly and our food came out fast. It's special in part because it's nothing special – but really good. Popular with locals, the breakfast and lunch menus are both high-quality and inexpensive. Al fresco dining is seasonally available.
At breakfast, if you are a lover of simple bacon, eggs and hashbrowns – this is the place for you. There are numerous varieties of omelets, and muffins 'as big as your head.' Baked Oatmeal is a house specialty in the morning hours.
There are 8 homemade soups every day – but perhaps they are best known for their Baked French Onion. The soup and ½ sandwich is a safe and tasty order. Speaking of sandwiches, the Ruben is the one to eat, with lean and juicy corned beef on warm and crusty bread. (There's a surprise inside – cherry sauerkraut gives this sandwich the perfect balance of sweet and sour.) It's big enough to share. Straight from the Cherry Capital of the World, the Cherry Chicken Salad comes highly recommended.
This is a wonderful place to stop once you finish exploring the stores on the north side of the road, before embarking down the south end of our Walking Tour of Front Street.
It's unpretentious and wholesome, so there's often a line out the door. Jump in line – you won't regret it.
Green House Cafe is located at 115 East Front Street in Traverse City. To view the menu, visit the Green House Cafe website or call (231) 929-7687.