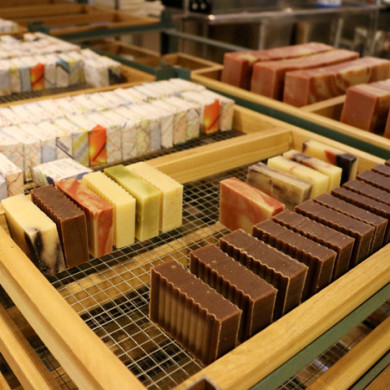 If Lake Michigan were a giant bathtub, you'd want to soak in it with an ample supply of Great Lakes Bath and Body products.
Owner Lynn Rodenroth is passionate and approachable. She got into the art of soap making out of a desire to create products that enlighten the senses and nurture good health. Sure, you could find synthetic products at a lower cost, but when you visit Great Lakes Bath and
Body, you'll see and feel – and sniff – the difference.
The store smells amazing, and so will you when you slather on the creamy body butters or soak in a bath salt. Rodenroth makes everything in the store. All products are plant-based using simple formulas, so they're great for people with skin and fragrance sensitivities.
The soap is the best-seller, known for lasting long and lathering well. There's a good array of scents like 'Cherry Almond', 'Sparkling Berry', and 'Just Oatmeal'. Lynn says the 'Citrus Mint' variety keeps the black flies and mosquitos away, so it is very popular in this region where they are prevalent.
You can also purchase soy candles, lotions and lip balms. Pick up a travel or gift set for miniatures of your favorites.
Great Lakes Bath and Body is a retail partner of the non-profit Paper Works, which employs people with special needs to create gorgeous handcrafted papers and greeting cards you can buy with your scented soaps.
Great Lakes Bath and Body is located at 104 Cass Street in Downtown Traverse City. For more information, visit the Great Lakes Bath and Body website or call (231) 421-9160.