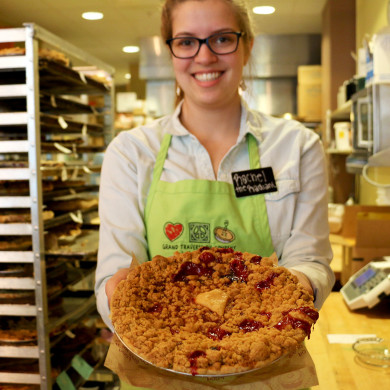 Grand Traverse Pie Company opened almost 20 years ago with a deep love for this part of the country – its bounty and its people – and the desire to become a "connecting point" for the community it serves.
Now a Michigan institution, the store has 14 locations – two in Traverse City.
"We're proud of the place of our original home," says general manager Jason Parks of the downtown location at the corner of Park and East Front Street. "This shop is extra special, in that all the profits are donated to local children's charities."
(Honestly, we've never felt better about ordering a second piece of pie.)
When you walk up to the cash register, you will see a big board listing all of the day's pie flavors. Open from 7 a.m. to 8 p.m., the shop is great for dining in or taking out. It also has yummy grab-and-go items you can bag up and carry on a bayfront picnic.
Grand Traverse Pie Company is the proud recipient of many a 'Red Hot Best' Award presented by Traverse Magazine, notably for its Cherry Pie, Cinnie Buns and Manitou Sandwich – a hot, melted club with pesto mayo.
Obviously, it's not all about the pie – although, the pie can stand alone. Choose from soups, salads or sandwiches, and even savory (hello, chicken) pies. They also brew coffee and espresso for a pick-me-up any time of day.
This pie company is rooted in the community and proud to use local ingredients – all pies are made with Michigan produced flour and sugar, and locally grown blueberries, cherries and apples.
Not surprisingly in the 'Cherry Capital of the World,' the Cherry Crumb Pie is by far the best seller.
So take a piece to go for a late-night treat back in your hotel room.
(We'll never tell.)
The Grand Traverse Pie Company is located at 525 W Front St, Traverse City, MI. For more information, visit the Grand Traverse Pie Company website or call (231) 922-7437.