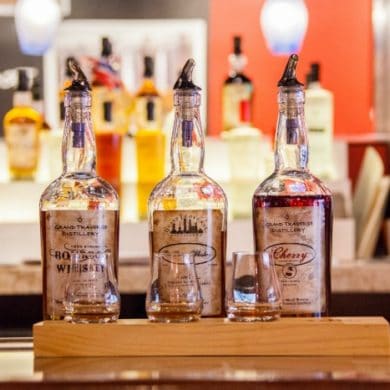 The Grand Traverse Distillery is the preferred watering hole for locals in Traverse City.
Kent Rabiash, the owner of Grand Traverse Distillery, was originally a pharmaceutical sales rep who would often find himself taking doctors and clients out for drinks.
"My favorite drink to order was always vodka with a twist," he says.
But something wasn't sitting right with Kent.
"Everywhere I went, I felt like I could make a better cocktail than what I was paying for."
This hunch that he could easily best the competition led Kent on a traveling spree to learn as much about distilleries as he possibly could. Hence, Grand Traverse Distillery was born.
With six locations, Grand Traverse Distillery is the highest awarded distillery in Michigan. The key to their success is the local Michigan grains that are milled and mashed right in the distillery. The whiskey ferments in a No. 4 char barrel that gives the finished product a rich, raw oak flavor.
The locals will recommend the Rye Whiskey, double-barrelled for two years, then roasted for another 18 months. (Now that's patience.)
But whiskey certainly isn't the only thing Grand Traverse Distillery is churning out. Their locally sourced Rye Vodka has won four gold medals on the national stage. If you happen to be around for brunch, you have to try the Chipotle Vodka Bloody Mary, voted best in the state.
It's also not a bad idea to start your night off here at the distillery. They make plenty of handcrafted signature cocktails.
If you're just visiting, be sure to visit the Grand Traverse Distillery store before you leave. All of their whiskeys and vodkas are available for purchase.
Mingle with the Traverse City locals and enjoy a drink at the family owned and locally adored Grand Traverse Distillery.
Grand Traverse Distillery is located at 215 E Front Street in Traverse City MI. For more information, visit the Grand Traverse Distillery website or call (231) 946-1259.
– Logan Singleton
Junior Copywriter,