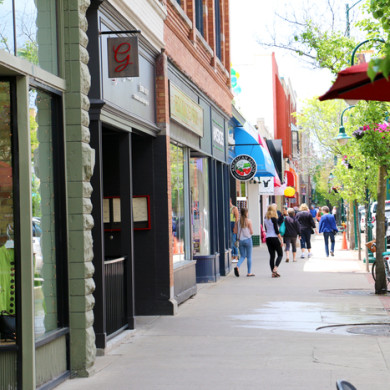 Front Street Traverse City MI
Downtown Traverse City has been acclaimed one of the most walkable, charming places in America, and at its forefront is the bustling Front Street, the main downtown drag that spans the waterfront. Walk it in its entirety. Don't miss the side streets.
Front Street has an old-school, small-town vibe, but it is home to some surprisingly urban and sophisticated shops. With its dozens of locally owned stores, a historic movie theater and dynamic restaurants, this is the nostalgic American main street that seldom exists anymore.
As you walk, you will relish in the nostalgic Americana. Legacy stores that have been around since the 60s are woven between seriously trendy new boutique stores. The street is peppered with a few chains – Chicos, Subway and Talbots among them – but most are unique and authentic and owned by local families.
Wear comfortable shoes, because there is so much to see … and many ways to spend your money on great quality goods. Clothing, shoes, toys, eco-friendly furniture, housewares, outdoor gear, ice cream, fudge, handmade soaps, books – you name it, you can find it here.
Either begin your walk from the hotel or take a free shuttle, but we recommend hitting the pavement. There are glorious views of West Bay as you traverse each crosswalk, and friendly people everywhere. You just never know what you'll discover when you walk a new place – from a new friend to a new favorite food.
OF NOTE:
In the summer, Friday nights are a party on Front Street.
There is a farmer's market on Wednesdays and Saturdays.
The State Theatre and Bijou Theater provide great movies and special events.
From the hotel, walk up the side of the road closest to the water and pop in these fantastic stores:
HORIZON BOOKS
This independent bookshop has been catering to bookworms since 1961. Be sure to check their calendar for events, including story time for children, author signings and live music. There's also a great little cafe inside.

GRAND TRAVERSE PIE COMPANY
Did someone say pie? We're there. From savory to sweet, the treats sold at the Front Street location benefit local charities.
BACK COUNTRY NORTH
This outdoor specialty store sells everything you need to have fun in this Northern climate, and also offers lessons and demos from sea kayak symposiums to stand-up paddle board lessons. You can also grab an EMO hammock, perfect for hanging out bayside – a great local pastime.
ORVIS STREAMSIDE
Next door to Back Country North, get your fly fishing lures here. Check out the website for special events including free lessons and guided trips.
TOY HARBOR
Nancy Walton is the owner of this independent toy store, stocked to the rafters with educational, nonviolent toys of high quality. Located on Front Street for 30 years, she must be doing something right.

ROBERT FROST FINE FOOTWARE
There's something slightly ironic about a shoe store owner called Robert Frost. (Get it? "Road Less Traveled?") This boutique shop focused on formal, fashion-forward footwear also houses an alteration and tailoring business called Sew Unique, in case you have any wardrobe malfunctions during your stay.
GRAND TRAVERSE DISTILLERY
If you don't have time to visit the main property, the Front Street location is a good place to stop for a sip from Michigan's oldest distillery – where Cherry Vodka is the most popular pour. 

MOMENTUM
Stop in for a T-shirt on the cheap. This giant chain sells souvenir threads for 40-70% off normal retail prices.
ELLA'S
Owner Wendy Buhr must have an eye for beautiful things. She curates a mix of vintage and new items in her boutique store, boasting well made, high end women's and men's clothing and shoes, as well as furnishings and home decor. You'll think you're in Downtown Manhattan rather than Downtown Traverse City. That's because Buhr's goal is "to provide customers the best products without having to leave town to go to the big city."
GLITZ AND SPURS
Think Daisy Duke with a lil' more glamour. That's what you'll find at Katie Grossnickle's store, shabby chic clothing and gifts with a cowgirl twist. Nab a fun dress or take home some Western inspired decor. Or, pick up a pair of her cute cowboy boots – these boots were made for walkin', and there's still plenty of Front Street ahead.
SWEET PEA
Aww, my little sweet pea. Make your baby's life a little sweeter with a gift from this precious place, selling the best in baby gear for new moms and dads.

YANA DEE
Yana Dee is the owner and designer of, well, everything in this cute and tiny store (even the furniture, including the sales desk and the funky leather couch behind it.) A Traverse City native, Dee sells her wares at her namesake shop, and at all sorts of local boutiques and art fairs. All fabrics are either organic or salvaged, and she's well known for her custom cotton wedding gowns and wrap dresses.
ROTH SHIRT COMPANY
Ed Roth is a purveyor of quality, original T-shirts of unique Michigan style, in earthy tones of blue and orange, with fun sayings and fresh drawings. The popular lake collection depicts each of the state's lakes. (Actually, when they set out they were surprised how many lakes there are, but still hope to get them all in time.)
Hey! Are you still with us? Keep walking. While you're at it, pick up some gourmet popcorn at sample booths that line the street. Then wander into …
SPICE AND TEA MERCHANTS
Jars line the walls with more than 200 varieties of loose teas, baking spices and specialty blends … powders for smoothies, teas for detox and cold busters, and interesting flavor profiles like Japanese Cherry, Green Curry and Smoked Hibiscus Citrus tea. For a souvenir that's anything but ordinary, you can buy native North American herbs such as slippery elm or baking spices like cocoa nibs.
FUSTINI
Stop in to taste aged and flavored balsamic vinegar. Compare the 8-year-old vinegar to the 12-year-old. (There's really a huge difference!) The lemongrass mint white balsamic is delicious. Once you decide what to bring home with you, they'll pour it into a branded bottle and seal it up. The corporate chef and local visiting chefs can often be found offering cooking demonstrations in the back, with 2-2.5 hour long classes you can watch or participate in. Book yours online.
By now, you've reached the end of the North side of the street. You're probably tired, so stop for a tasty, inexpensive lunch at …
GREEN HOUSE CAFE
This family run eatery boasts some of the most friendly staff and delicious sandwiches in town. Try the Cherry Chicken Salad or one of many Soups of the Day, which really change by the day. It's comfort food with a twist.

After a restful meal, cross the street and grab one of the best espressos in town at …
THE BREW
Located in the historic opera house building, this is a vibrant place to get some work done on your laptop. You'll be in good company. It's noisy in a fun way, and there are cocktails as well as house-brewed coffees, paninis, micro brew beers and local wines. The furniture is comfortable, and the Wi-Fi is free and fast. Stay a while.
GREAT LAKES BATH AND BODY
This destination promises products that enlighten the senses and nurture the body. So pick up a soap or lotion that will transform your day.
GREEN ISLAND
Find sustainable home goods including Adirondack chairs made out of recycled milk cartons. There are all sorts of natural and organic items made from cooperatives and fair trade businesses in town, and lots of cool stuff for the kids.
CHERRY REPUBLIC
You came to cherry country, now pick up a sample of your stay. Anything and everything cherry is right here in one store. It's gorgeous, it's red. It's full of cherry wine, cherry ice cream, cherry jams and gifts galore.

AMERICAN SPOON
Great jam starts here, they say. Eat yours by the spoonful. We think that's the point.
We hope you've enjoyed your tour of Front Street.
Now, head back to the hotel and rest your happy head.