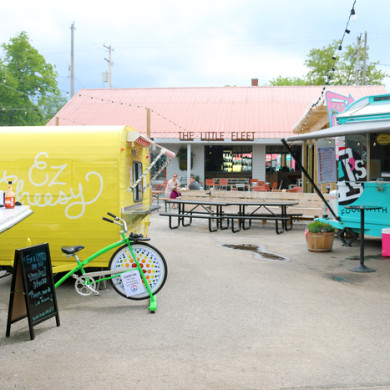 For a taste out of the ordinary, we suggest you try lunch or dinner on wheels. Located in front of Traverse City's only open-air bar, The Little Fleet, the food trucks are a perfect place to grab an inexpensive, tasty snack in a cool, funky atmosphere near our hotel.
To get there, follow the paved path outside our doors toward the lake heading west, but instead of 'traversing' over the bridge, fork right and head beneath it to cross the river, then take the stairs up to Front Street.
All of the trucks and trailers are independently owned, renting space from the family-friendly, community-centric Little Fleet. Most have summer 'residencies', but to keep things fresh and interesting, a few of the spaces are transient, rotating every two weeks with visiting vendors. They're capitalizing on a nationwide trend … and doing everything right.
The Little Fleet features a full bar on an outdoor patio with fantastic urban mural art on its inside walls. The bar itself is fun and funky, 'upcycled' with red iron and a tin roof.
If you time your visit just right, you may be in luck. Once a month, there's a big party where guests can linger in the lot for cocktails and live music. Everything about the place is cool – good for this community and also for the planet, with designated areas for customers to compost and recycle.
After you decide which food truck will take your order, you can get your drinks from The Little Fleet, serving 12 drafts (many of which are seasonally rotated local craft beers) and speciality cocktails with house-infused liquors.
If Fido is with you, bring him. Children? They're welcome, too. There's a fire pit and ping pong for when the beer starts flowing. The place has become so popular, it plays host to many a private party – even wedding rehearsal dinners – and lots of the trucks cater.
You'll find vegetarian and gluten-free trucks, smoothie trucks, BBQ wagons, Portuguese fare, ramen and rice, grilled cheese and more. The line-up changes, and hours vary with independent operators.
Pick up a souvenir T-shirt, koozie or growler to commemorate your visit – although, with a vibe like this and a cast of characters and menus equally as interesting, it's sure to be unforgettable.
For a current list of trucks, visit The Little Fleet website.