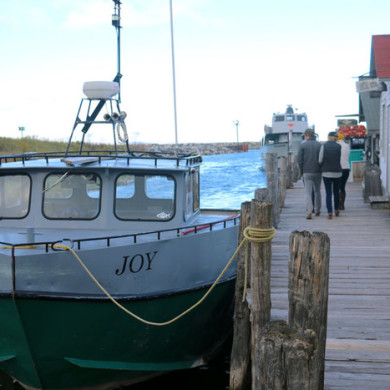 Fishtown Leland MI
What's in a name? When it comes to Fishtown, it's everything.
This is a town built upon fish.
Located in Leland, Michigan, Fishtown is dedicated to Lake Michigan's storied fishing history. You'll wind your way through docks, shanties, tugs and charter boats for a first-hand connection to the maritime community.
The Fishtown Preservation Society leads the effort to protect cultural icons like the Janice Sue fish tug, built in 1958, and the Joy of 1981 (pictured here).
Fishtown is open year-round, although much of it closes down for winter. The docks are vibrant with activity during summer, perhaps harkening back to the early 1900s when people came here to work in the village. Yet it falls quiet in the colder months.
In season, ferries will take you from Leland to North Manitou Island. Many of the historic shacks and shanties now house clothing boutiques, galleries and specialty food stores, like our favorites listed here.
—
The Crib
This fun shop is full of treasures and gift items ranging from clothing to books, stationery, sunglasses and jewelry. Look for big sales before they break for the winter. 
The Cove
Open mid-May to mid-October, The Cove offers casual waterfront dining for lunch and dinner. It's located on a dam, with waterfall views of the Carp River that runs into Lake Michigan. You'll feel like you've stepped into a fish camp, its walls lined with lures, fly ties, rods, reels, fish and rope. White Fish is the most popular dish, so much so that it was sold out during our visit. Scallops and burgers are popular, so we opted for those.
Reflections
This beautiful gift shop sells jewelry, art and precious stones.
Dam Candy Store
Open beginning in springtime, this shop offers jelly beans, lollipops and ice cream to make you feel like a kid again.
Grand Traverse Distillery
This popular crafter of spirits has a tasting room in Fishtown.
Cheese Shanty
This seasonal shop has been serving fresh, made-to-order sandwiches, local cherry products and more than 60 imported cheeses to Leelanau Country for more than 25 years. The neighborhood store also offers award-winning local wines. It's the perfect place to stop to pack your picnic for a hike of the island or your own fishing trip – open every day from April to October in Fishtown.
—
Fishtown is one of the few preserved commercial fishing complexes of yesteryear that still stands – or rather, floats – upon the Great Lakes. The non-profit Fishtown Preservation Society spearheaded a campaign to acquire Fishtown in 2007, but is still raising funds to maintain its structures and develop educational programs. So if you enjoy your visit, consider supporting the endeavor.
It's a joy to visit.