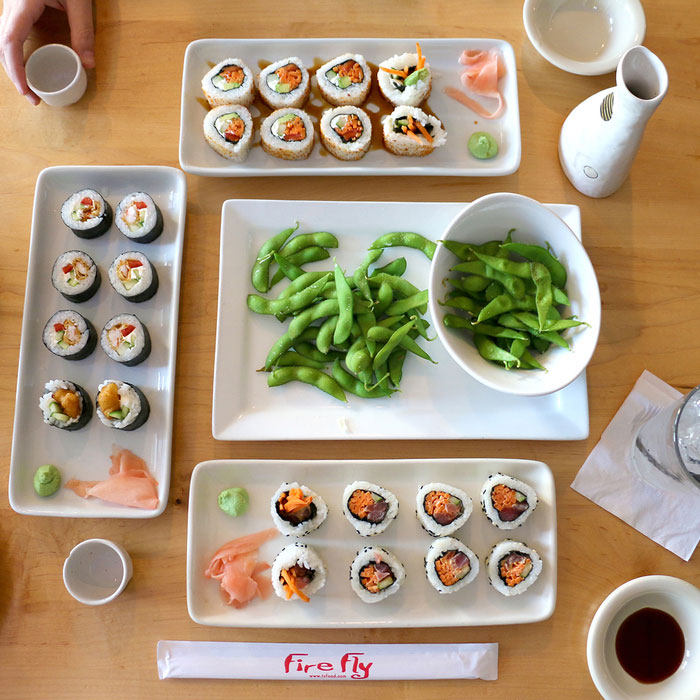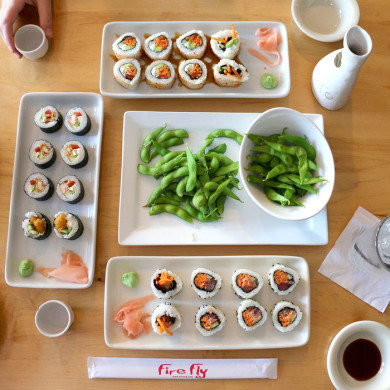 When you crave raw adventure from your plate and a buzz from your glass, head to Fire Fly – located on the banks of the Boardman River in Downtown Traverse City. With a vibrant, fun atmosphere and specials every night of the week, this place is perfect for a date night or a night out with friends.
The expansive menu got its start in small plates, but the restaurant now offers main courses ranging from stir fry to steaks. Happy Hour is every day until 7 p.m. – with enthusiastic bartenders serving up a wide selection of local, national and international wines and many craft beers.
"We salute the working men and women of Northern Michigan who carry on the tradition of meeting up after a long, hard day's work for food, friends and, of course, beer," our bartender said.
If you want to see and be seen, make plans to go to Sushi Night on Tuesday, when all the locals gather for a great happy hour and special rolls.
But the food is great any night of the week, with interesting and delectable snacks like Thai Calamari – thinly sliced breaded calamari steak tossed with Thai chili sauce, julienne carrots and micro greens; entrees including Beef Tenderloin –abacon wrapped filet with beet risotto and balsamic glazed Brussels sprouts; and sushi rolls such as the Empire – blue crab, tempura asparagus and sweet soy reduction.
It's reasonably priced, too, with plentiful daily specials to please your palate … and your wallet.
DAILY SPECIALS
Monday 
1/3 off Small Plates
Tuesday
 Sushi Night


Wednesday
 Ladies Day
(Happy Hour Priced Drinks
Open to Close)
Thursday
 1/2 off Martinis and Mojitos
Friday 
Happy Hour Open – 7 p.m.
Saturday 
Happy Hour Open – 7 p.m.
Sunday
 $5 Wine Pours
Fire Fly Time 
3:00 – 5:30 p.m. 
Monday – Friday
1/3 Off Entire Menu
Happy Hour 
Everyday 
Open – 7:00 p.m.
$2 well drinks
• $3 house chardonnay 
• $1 off everything else
With colorful, local art adorning the walls, and a colorful, local crowd at every table, you won't want to miss this bright eatery.
Fire Fly is located at 310 Cass Street in Traverse City. For more information including hours by season, visit the Fire Fly Restaurant website or call (231) 932-1310.