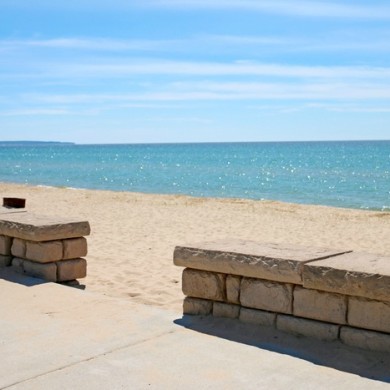 Empire Beach MI
If you're looking to recuperate after a long hike of the Sleeping Bear Dune, try Empire – a cute small town with a few great stops for lunch … or just chocolate.
Notably, the most attractive attraction in town is Grocer's Daughter Chocolate, founded in 2004. Drive into Empire and start up the hill for some of the best chocolate treats you'll ever taste.
The small, family-owned business is housed in a bright green building on the lakeshore, just 20 miles west of our resort in Traverse City.
The chocolate is made in-house, right here, sourced from as many local ingredients – like fruits, nuts and spices – as possible. Grocer's Daughter says the best chocolate in the world comes from 'a skilled hand and a grateful heart.'
Don't most things?
One bite (a small stuffed chocolate with a creamy center is only $2), and you'll taste the difference between 'made with love' and 'made in a factory'.
Inside the mostly Ecuadorian chocolate hides bursts of flavor, from espresso to chai, berry to caramel. Receive a discount when you purchase grab-and-go gift boxes or multiple pieces.
Famed for their truffles, you can often witness locals walk in, buy one chocolate, and walk out again. If you crave more once you get home to wherever you came from, order them from the online store.
Grocer's Daughter Chocolate is located at 12020 Leelanau Highway in Empire, MI. For more information, visit the chocolatier's website or call (231) 326-3030.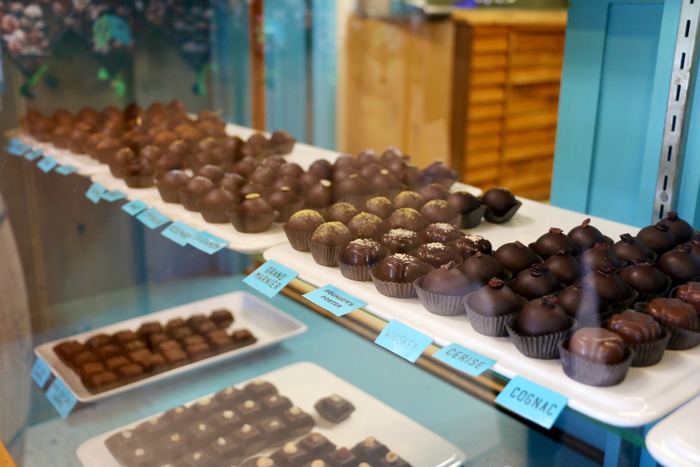 If the sweet local treat has piqued your interest in this quaint lakeside town, stay a while. Drive to Empire Beach and Lighthouse at the edge of town. You can eat your truffles here, if you have managed not to inhale them on the drive over.
Here, you'll find a family-friendly beach and lagoon with a dock, a wonderful place for paddle boarding in the warmer months. The calm, flat waters of the lagoon are great for small children, who can swim right from the pier. If you didn't pack your swimmies, treat the kids to a turn on the large playground.
Then there is the lighthouse.
A small replica of the true beachside beacons, it stands as a tribute to lifelong Empire resident and fisherman Robert H. Manning, who often wished his hometown had a lighthouse to guide him safely to shore after his evening trips. Manning's friends and family made his wish come true with the lighting of this memorial in 1991.
Listed in the Coast Guard's Light List as Manning Light, the small-scale lighthouse serves as a private aid to navigation by emitting a white flash every four seconds at a focal plane of thirty-eight feet.
Amazing chocolate and a lighthouse built for a man who adored this place?
That's two sweet things to love about Empire Beach.