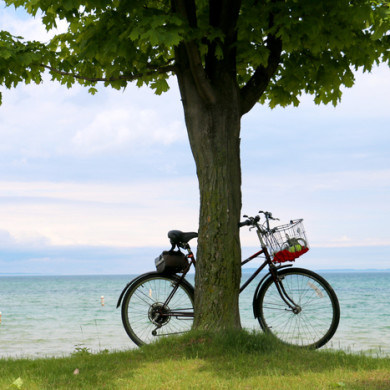 Clinch Park Traverse City MI
When you visit Michigan, you've got to explore our Great Outdoors. One great way to get outside is to hit the trails – the Traverse Area Recreation Trails (TART), that is.
The TART will give you a sweet taste of the beautiful scenery we're known for, while also taking you straight through our charming downtown and along the river. The Vasa Pathway is the most popular portion of the TART system (see our Waterfront Jogging blog here). These 22 miles of groomed paths are perfect for hiking, jogging, walking or biking.
You can rent a bike right here at the resort, from the vendor next to the Day Club patio, just in front of where the Naughti-Cat catamaran departs for its sunset sails.
If you want a ride that's 'out of this world,' then 'Pedal the Planets' is the path for you. Just start at the Sun directly outside the Traverse Area District Library to take a tour of our solar system – with hand-crafted sculptures on an accurate scale.
Once you've traveled to Pluto and back (Hey! Is Pluto even a planet anymore?!), set your sights on Clinch Park, a waterfront grassy park within walking distance of our hotel. The former site of an aging zoo, it was recently revitalized to become the bustling beacon of today. The TART will take you right to the park, where its smooth asphalt sidewalk stretches along the grassy manicured gathering spot.
There's a lot of activity here, with trails, kayak and paddleboard rentals, a marina and beach area to lay and play. There are also hammocks and beach volleyball courts, with Frisbees zooming across green fields and kites flying in the blue skies. It's a picture-perfect spot to relax and soak up the day. You'll find something for everyone – from the ice cream shop, playground, jungle gym, rock wall and splash pad for kids to the picnic areas and Bijou by the Bay Theater for grown-ups.
Located between Grandview Parkway and West Bay, it stretches along the Lake Michigan waterfront – where the view is, indeed, grand. The water is glimmering turquoise, with springtime temperatures of only 55 degrees. (Even so, there are always a few brave children swimming, and a couple lifeguards on duty.) In August, water temperatures rise the to high 60s or low 70s.
Here, hammocking is a popular park pastime. People bring their own – sporty hammocks of a parachute-like material are sold at all the local stores – and hang them between the perfectly positioned trees. You'll often spot them stacked one atop another.
There are lots of trees and shade, but plenty of sun. In fact, sometimes you can catch a Sun Salutation on the beach, as park-goers participate in waterfront yoga classes.
When you're ready to depart, hit the trail again. The TART connects you to resorts, shops and restaurants, recreational areas including Reffitt Nature Preserve and many city parks, Downtown Traverse City, local neighborhoods – and miles of more trails, from the Boardman Lake Trail to the Leelanau.
What are you waiting for? Be a trailblazer.