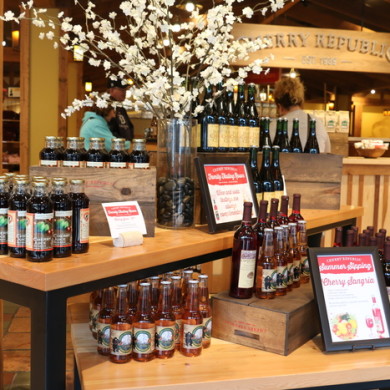 When you visit 'Cherry Country,' you've got to try the cherries. And one of the best places to do it is Cherry Republic – celebrating Michigan's famous fruit for 25 years.
This huge, recently renovated store features everything cherry in its retail shop, ice cream parlor, wine tasting bar and restaurant. Flavors run the gamut from cherry summer sausage, cherry hot chocolate, cherry candies, dried cherries, cherry wine, cherry syrup and more. Basically, anything you can flavor with the sweet and tart little wonder, they've done it.
It's all been harvested, collected and neatly packaged here for your perusing, tasting … and taking home. There's a catalogue of cherry treats you can pick up in the store, that will ship anywhere in the U.S. and Canada.
Everything here tastes good … and the store is doing good, too. One percent of sales from Cherry Republic are donated to help local farmers and beekeepers, totaling more than $1 million in a single year, according to marketing director Debbie Carnevale.
You can try before you buy, with heaps of samples served up daily. There's wine tasting for the grown-ups and soda tasting for the kids, featuring cherry root beer and cherry cola.
"Pure cherry wines are made from Montmorency cherries or Balaton Cherries, and we also carry cherry-infused pinot grigio and other wine standards," Carnevale said. "Don't like wine? Try the Cherry Hard Cider."
Want to spice up your life? Next, taste-test some cherry hot sauce.
Now that you've piqued your palate's interest, head to the Grand Cafe at the back of the store. Not surprisingly, every item on the menu has a bit of cherry in it. Choose from the Cherry Chicken Sandwich, Cuban Sandwich with Cherry Mustard, Roast Beef Sandwich with Cherry Horseradish or the Pizza with Homemade Cherry Roasted San Marzano Tomato Sauce.
Then, to top it all off (with a cherry, of course), pop by the ice cream parlor, boasting such flavors as chocolate-covered cherry and green tea cherry.
For such a major operation, Carnevale tells us the whole thing was started "by a guy selling T-shirts out of his car."
Humble beginnings for a splendid fruit. Get your cherry fix – and your souvenir T-shirt – here.
Open 9 a.m. to 10 p.m. daily, visit the Cherry Republic website or call (231) 932-9205 for more information.