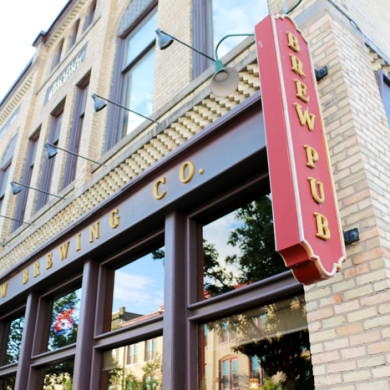 Breweries in Traverse City MI 
Mackinaw Brewing Co.
161 East Front Street
The oldest in town, Mackinaw Brewing Company has been brewing since 1997. The actual brewery is in the basement, so the bartender likes to say, "if we fell through the floor, we would be swimming in the beer kettles." In addition to the beers, there's a good selection of local wines.
MBC is housed in a historic building constructed in 1892 and restored in the 1980s, with exposed brick walls.  Smack dab in the center of Front Street, this is the most accessible of the bunch. It's a more casual, rustic, throwback pub … not trendy in the slightest.
If you get hungry, you must try the Reuben. Corned beef is smoked in-house for 14 hours, served on warm dark rye with homemade sauerkraut and Swiss cheese. The smoked white fish dip is delicious. Also from the smoker are dynamite ribs, brisket and pulled pork. There's smoked house sausage in the Bangers and Mash, and Smoked Meatloaf served with mashed potatoes and gravy.
Basically, if it's smoked here, it's good. Portions are big.
Bottom Line: Dial down the trendy, hipster vibe and relax in an unpretentious space.
Rare Bird Brew Pub
229 Lake Avenue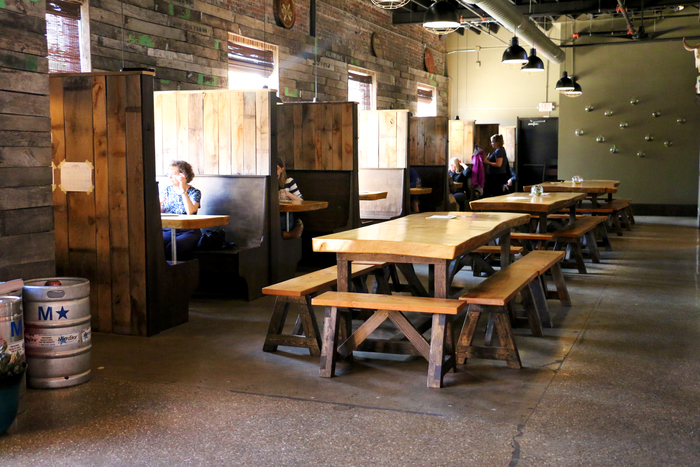 Rare Bird is neat and trendy, with a midtown location that caters to the business casual crowd. An 'industrial chic' atmosphere offers large, communal wooden tables and walls lined with huge booths. The outdoor patio is a great spot to hang out.
They sell both their own beers, as well as other Michigan brews. A fun one to try is the Ginger Beer, an experimental red ale extra malt with a complex, spicy flavor.
Interesting snacks fill the menu, from deviled eggs to deep fried cheese curds that are ale-battered and served with chimichurri ranch dressing. Or, try the roasted beet and squid salad before your entrée. Full meal offerings range from mahi tacos to pork belly nachos.
Bottom Line: It's more like an upscale restaurant that sells its own beer.
The Workshop Brewing Company
221 Garland Street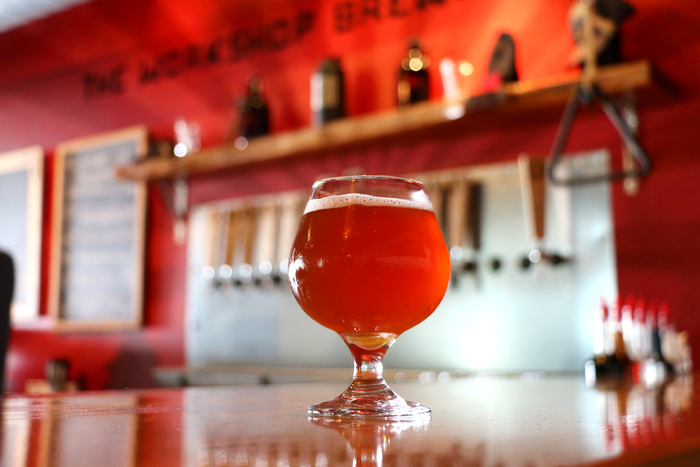 Located in the Warehouse District, The Workshop is a newer brewery, playing on a Russian Communism style, heavy on the red and black décor, with staff uniforms that resemble proletariat factory workers and a tagline of "Power to the Pour."
One of their special beers is the Friday Shaker, a Flemmish-style brown beer aged in an oak barrel for 9 to 10 months. Hand-bottled with a champagne cork, the bartender says it is a true labor of love.
Here, there's lots of indoor and outdoor seating. The menu boasts snacks and a light menu of sandwiches, continuing the revolutionary theme with items like the Capitalist Pig Burger, slow-roasted pulled pork with wrecking BBQ sauce and sweet and spicy citrus slaw; a Reuben of sickle corned beef, cherry-braised cabbage, Swiss cheese and Thousand Island dressing on mustard rye; and the Revolutionary Cuban with pork belly, pit ham off the bone, pulled pork, spinach, tomato, pickles and mustard on a baguette.
Beer pairing suggestions are outlined on the menu, named after factory and farm tools. Our bartender's favorite is the Ball Peen – a type of hammer, yes, but also a medium-bodied beer with extra special bitters. Others include the Wrecking Bar and 10 Lb. Sledge Hammer. They're all 100% organic and brewed on site.
Tables are upcycled sawhorses, and you can also play pinball and foosball. Open at noon seven days a week, check the schedule for live music, which is offered many nights. If you like the vibe, the owners also run the Remedy Café, just next door.
Bottom Line: Clever theme and solid beers. (Like literally, you'll get hammered.)
Right Brain Brewery
225 East 16th Street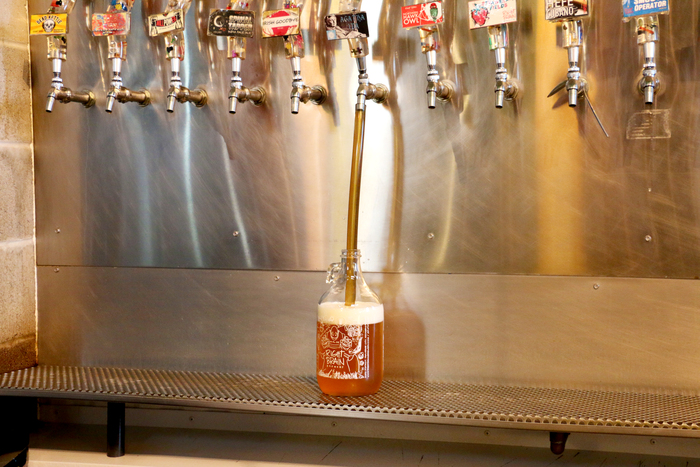 Tucked away in a residential neighborhood near the railroad tracks, with its name painted on the side of a boring brick building, you may be underwhelmed from the start. Yet, don't judge a brewery by its cover.
When you walk in, it's such a surprise. It's messy, fun and lively, with Star Wars and other 'odes to geeks' in décor and a HUGE variety of beers – more than 200 at various times.
The menu features great snacks – like popcorn behind the bar, avocado dip, hummus in various flavors and, best of all, waffle sandwiches (like ham and gouda with citrus slaw!)
Order at the bar, and sit where you want. None of the chairs match, with an eclectic collection of seating, including some from hospitals and sports stadiums. It's wild and funky, not neat and trendy like the others. The walls of the huge, open cinderblock room are lined with weird and wonderful colorful art.
A light beer called Smooth Operator is the best seller. They also offer local ciders and cider mead. A resident mixologist mixes the beers and other beverages, including the Snake Bite – half cider and half beer.
The thing that really makes this brewery stand out is how they mix real food and spice flavors into their beers.  They sell what they call 'culinary-inspired beers' with no extracts – only real food products. In fact, our bartender said, "If the beer says there is a pig in there, there is actual pig in there."
The owner is a barber by trade, and used to own the attached salon called Saloon Salon. (His dream was to have a place for both beer and haircuts. Isn't that your dream, too?)
Right Brain distributes beer all over Michigan. One called Thai Peanut Spice is surprisingly delicious – one of the most interesting beers we've ever tasted, like Pad Thai in a glass. Firestarter is a chipotle porter, and Northern Hawk has a sweet caramel nutty taste.
Become a member, and they'll assign you a colorful ceramic mug you can hang on the wall. If you are a collector of brewery swag, the mugs and T-shirts here are super cool. You can even buy bottles to go, for great gifts.
Happy Hour is Monday to Friday from 3 to 6 p.m., but it's safe to say there's not an unhappy hour at Right Brain Brewery.
Bottom Line: Most funky of all the breweries, with a seriously fun vibe.
The Filling Station
642 Railroad Place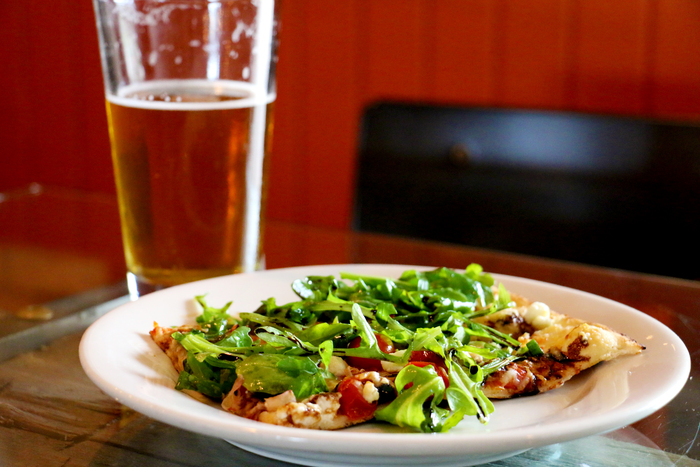 Located in an old train station on the edge of Boardman Lake, this pub has a super trendy atmosphere, with exposed brick and tables made out of old railway wood. It offers microbrew beer and thin crust pizza.
They have a large, wood-burning pizza oven made from large, smooth river rocks that you can see and smell when you walk in. Order at the bar, then park your caboose (get it? train jokes?) anywhere you choose, indoors or out. The outdoor patio beside the tracks has a lake view.
The pizza is wood fired and thin and amazing. The most popular is the Wolverine with marinara, fresh pineapple, pepperoni, jalapenos and mozzarella. Another favorite is the Cock o' Walk, with house-made basil oil, roasted chicken, artichokes, roasted cherry tomatoes and mozzarella. Unique pizza specials are posted on the wall, like a BLT with romaine lettuce on top. Or, build your own. Sweet versions are available for dessert, with graham cracker crust, Nutella, marshmallow and caramel drizzle. There's a reason locals come and grab the pizza to go.
Sixteen local house-brewed beers run the gamut from red to brown ales, IPA, stouts, Kolsch … you name it. The most popular brew is the Huntington IPA. Try J Walkin, a triple IPA that is 'dry hopped,' adding hops towards the end of brewing process to create a higher alcohol content.
There are salads, as well as kids meals served with fountain sodas. Cool, branded growlers cost $12 for refills. Pick up an 'Ales by the Rails' T-shirt before you go.
Bottom Line: Come for the beer, stay for the pizza.