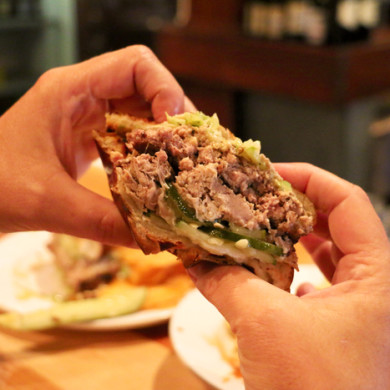 Imagine walking into a working barn. Now, picture it clean, where the only animal odor is the awesome aroma of smoked meat wafting through the air. You're at Blue Tractor Barbeque.
Here, the North goes South, and they've done a great job of decorating so you can enjoy a down-home meal in a rustic, farm-like ambiance with an industrial twist. There are gears, exposed pipes and repurposed wood in this trendy spot that packs out for the lunch hour and dinner time.
Those good smells we mentioned? They may have something to do with that fact that Blue Tractor smokes it own meats in-house every day. That's something you want out of a good barbeque meal.
General Manager Andrew Weaver says Blue Tractor is home to two smokers out back that burn mostly hickory wood for a flavor all its own. Meat is smoked 12 hours a day just behind the restaurant. New to the menu, the smoked chicken wings are the best in town – smoky and spicy, oh my.
The restaurant is well known for its delicious varieties of macaroni and cheese. It's decadent and creamy, served five different ways – including Three Cheeses and Herb Bread Crumbs; Smoked Chicken, Mild Chiles and Jack Cheese; Ham, Peas, Smoked Gouda and Crispy Onions; BBQ Pulled Pork with Smoked Gouda; and Smoked Sausage, Whole Grain Dijon Mustard, Cheese Sauce and Jalapeno Chips, all for under eleven bucks. If we were forced to pick a favorite, we'd have to say the pulled pork version is the best.
Consider a Tractor Pie – deep-dish pizzas crafted with hand-stretched dough and homemade sauce. We can personally recommend the Firehouse Pizza with smoked chorizo, pepperoni, jalapeno, red onion, tomato and pepper jack, and a fluffy BBQ dusted crust. (You might need a cold beer with this one. And you're in luck, because Blue Tractor serves local craft beer from 10 Michigan artisan breweries.)
In the mood for a burger? Try the Cuban Burger on a soft pretzel bun with pit-smoked pulled pork, jack cheese, pickles, lettuce, secret sauce and mustard, served with homemade BBQ chips – of the super crunchy, kettle-made variety.
On the lighter side, there are several salads to choose from, as well as snacks with a Southern twist, like fried pickles, pork rinds, sliders and homemade chowders. The restaurant strives to use local products wherever possible, so you're in for a real treat.
Diners can choose from full-service restaurant seating or bar seating, where plenty of TVs broadcast your favorite games, and the drinks are flowing. Located in the heart of the historic district, Blue Tractor's open-air beer garden opens daily at 4 p.m. and hosts live music on the weekends from Memorial Day to Labor Day. Food trucks are coming to the beer garden soon, with 100 seats and local craft beer in the back lot.
The dinner menu is the same as lunch, with the addition of smoked meat platters featuring house-smoked ribs, brisket and half chickens. It's all about casual comfort food with a stylish Southern flair. Their inspired take on Chicken and Waffles is a must – cider brined, deep fried chicken over a Belgian waffle, with peppered bacon, butter and bourbon-infused Michigan maple syrup.
Happy Hour runs from 3 to 6 p.m. Monday to Friday, with $3 Pints and 12 oz. bottles, $5 Classic Pizza and Slider Baskets. Sundays feature $1.50 Bloody Marys, Mimosas and Screw Drivers.
On weekends, you'll need to make a reservation. But the wait is worth it for food this good. Pick up a signature T-shirt or hoodie on the way out to rock your Blue Tractor style.
Blue Tractor Barbeque is located at 423 South Union Street in Traverse City. For more information, please visit the Blue Tractor website or call (231) 922-9515.