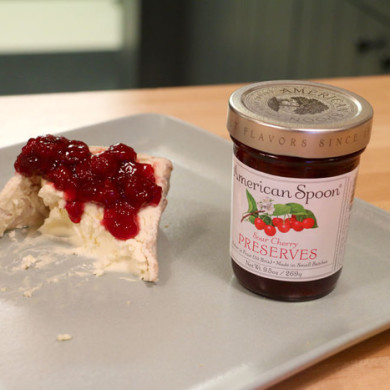 If you could jar the American dream, you would find it at American Spoon.
In 1982, they were just two good ol' boys with a love of country cuisine and the bounty of the woodlands. Justin Rashid was picking Michigan mushrooms to send to Larry Forgione's New York restaurant. They soon combined efforts to produce fruit preserves from the incredible harvests of the Michigan landscape.
Larry developed the recipe.
Justin hand-picked the fruits.
Large copper kettles did the rest.
The first product was an 'Early Glow' strawberry preserve, made from a berry that is hard to grow and known for its robust flavor. The duo went on to make a huge variety of preserves, made in the store and available in all six Michigan locations, as well as online or by mail order catalog.
Cherry peach salsa is the best seller. Sample the wild blueberry compote and the wild thimbleberry jam, for starters.
American Spoon also sells nut and fruit butter, pancake toppings, granolas and gift sets. Spoon fruits are jams without sugar, which are sweetened with natural juices.
The store is a sight to see, with immaculate packaging and presentation. The artisan food company (founded before that was even a thing) has won all sorts of national awards. Demonstrations are frequent around tasting tables in the store, and delicious recipes using American Spoon ingredients may be found on-site or online.
The recipes go far beyond, "Spread jam on bread," to reveal how these delicious spoonfuls can be used in everything from chili to tacos, salads to slaws.
If you don't have room in your suitcase to haul everything you wish you could purchase, pick up a glossy catalog in the store. It's sure to fit in your carry-on, along with a bottle of the best Bloody Mary mix in America.
American Spoon is located at 230 East Front Street in Traverse City, MI. For more information, visit the American Spoon website or call (231) 935-4480.