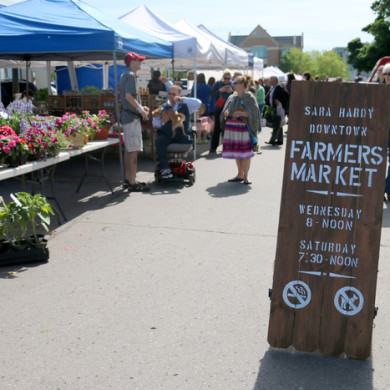 Sara Hardy Downtown Farmers Market Traverse City MI
During the summer and into the fall, the place to be for local produce, from-scratch baked goods and fresh flowers is the Sara Hardy Downtown Farmers Market in Traverse City, Michigan.
Open Saturdays from 7:30 to noon from May to October and Wednesdays from 8 a.m. to noon beginning in June, this place is the real deal … in fact, the market is the main source of income for many of its vendors. And they're lucky to snag a spot. It's one of the best in the Midwestern United States.
Early on in its history, the Sara Hardy Downtown Farmers Market Committee made the decision to restrict it to a grower's market. This strong commitment has kept the market authentic and community-minded for more than 30 years. Every product sold at the market must be grown or produced by the vendor.
There's a huge waiting list to be part of the market, and the application process is grueling. Vendors must be from one of three surrounding counties, and site inspections are made prior to acceptance to guarantee you make what you claim.
What this means for you is you get to talk to the source of your food! The people selling it are the ones farming or producing it. It's a fresh, local experience – and a wonderful educational opportunity for kids and adults alike. To find the market, walk along the lake path to the east until you see the parking lot with blue awnings. Located between Cass and Union Streets, the lot is off Grandview Parkway across from Clinch Park.
More than three decades strong, the market is now producing more than veggies – it's growing generations of farmers, several who have worked here since they were little kids themselves. (P.S. Little kids love it.)
You'll find healthy, hearty treats and gifts to eat today or take home to your friends and family, like fresh asparagus, local honey, real maple syrup, beautiful decorative plants, jams and jellies, dried apples and abundant seasonal veggies.
When you visit, check out our picks of the best stalls:
Forever Summer produces handmade soaps, body products and essential oils. Long bars of natural soap are carved in front of you. Take home a loofa on a stick with handmade soap inside.
Boss Mouse Artisan Cheese combines traditional techniques with modern recipes to craft incredible butter and a variety of aged cheeses one wheel at a time on a historic 1867 centennial farm, using grass-fed cow's milk. The Sweet Swiss is a bestseller. Get here early, Sue Kurta's cheese often sells out before 11 a.m.
9 Bean Rows is a bakery, farmstead and restaurant within the market, producing extremely popular traditional European pastries from buttery, flaky croissants to brioche. They tell us the Twice Baked Almond Croissant is the best, but we think you should sample them all to be sure.